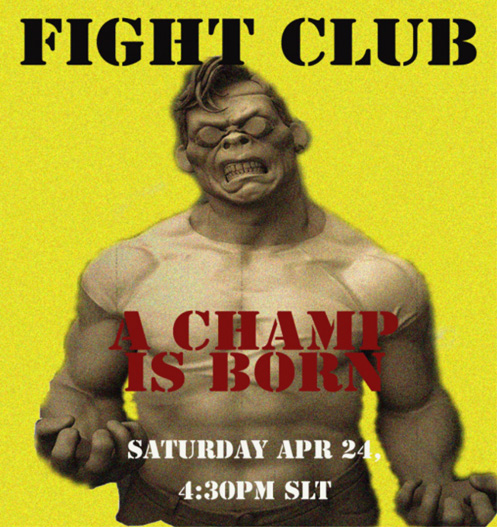 Good Bloody Day, Mr Ling here…
Okay, people.. before you start thinking it's all a joke and you'll wear yer shiny badges without having to break a sweat – I think it's a jolly good time to find out who's the scariest of them all tonight, at 4:30SLT exactly.
This will be a first Nomos Fist Fight Tournament, that's right – no fancy blades nor other gadgets! The winner gets a nice 500SG prize and… one of our fans to accompany him after the struggle, not to mention the damn title of the Champ Of Nomos!
…for those of you who still don't get it – yes, you are invited to take part in it and get the darn title… all you need to do is get in touch with me and get the 75SG ready for the entry fee – if you can't afford it then you're likely not worth trying yer skill.
Anyway – get yerself geared up and ready – the prize is burning a nasty hole in Dr Trent's fancy suit!
[organizer: Pawel Ziplon]