The Royal Hotel – Bar and Lounge is under new Management!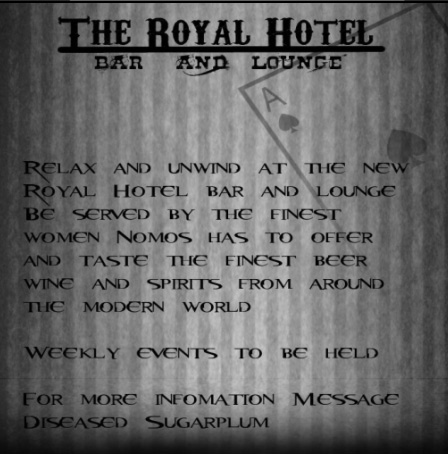 Its time for a new type of bar in Nomos, the Gentlemans drinking lounge, a place to relax and let the day's trouble's go away with a nice beer and pleasant Female company.
What makes us different?
We are a gentlemans Lounge, our girls look good and serve you, without the hassle of you feeling the need to shove dollars into her underwear for a quick peek at some flesh.
We at the Royal serve only the best Wine, Beer and spirits, we also hope to host weekly card game events and maybe the odd drinking contest.
We are also looking to hire!
Please All females and males wants, no matter the training you have had, we can train you up.
For more information please send a message to Diseased Sugarplum.
Come on by and have a look!