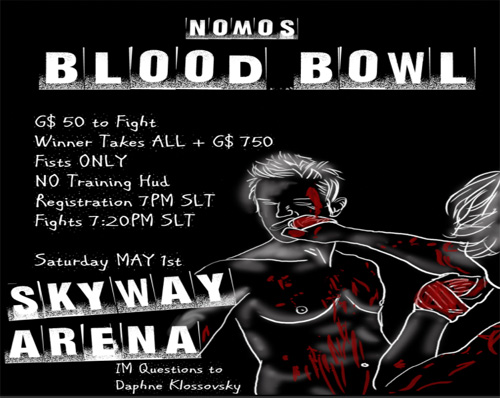 Calling all Fighters and Spectators!
Do you feel like something is missing in your life? Do you feel the need to beat someone to a pulp with roaring crowd cheering you on? Then come on down to the Skyway Arena this Saturday, May 1st, to fight in the Nomos BLOOD BOWL. Registration starts at 7pm SLT, fights begin at 7:20pm SLT.
Entrance fee: G$ 50
Weapons: Fists
Prize: $G 750 + ALL Entrance FEES
(The Skyway Arena does not screen for perv.)
We will fight with NO training huds, so be prepared to spill some blood. People with healing/food skills will most likely be in high demand.
Message Daphne Klossovsky if you have any questions.