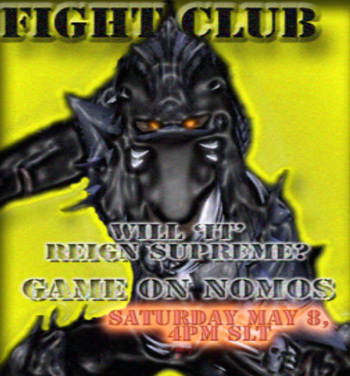 Good Bloody Day, Mr Ling here…
This will be a third Nomos Fist Fight Tournament, that's right – we're here as usual and ready to find out whose fists will be the most feared in Nomos… and whose jewels will be hanging above our gates, too… the one who will defeat all the oponnents and the dreaded alien thing that is currently a champ… 500SG in cash, a lifetime virus vaccination and… a big and rather sexy surprise…
This week will also see a surprise fight, and an introduction of BETTING on all our matches! Yes, you will also get rich simply by knowing who is the man (or a woman) to risk your dollars on!
…for those of you who still don't get it – yes, you are invited to take part in it and get the darn title… all you need to do is get in touch with me and get the 100SG ready for the entry fee – if you can't afford it then you're likely not worth trying yer skill.
Anyway – get yerself geared up and ready – the prize is burning a nasty hole in Dr Trent's fancy suit!