Minor Theft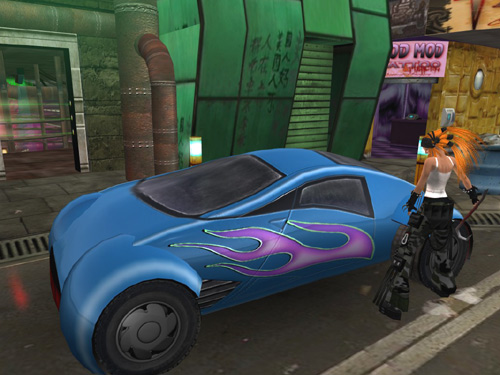 Auto Burglary (Nomos)
If you own a crowbar, feel free to break in to the cars and steal what is inside.
There are cars in both Nomos and Nomos 2. Once you get stolen goods, take them to the Pawn Shop and sell them there.
Good luck …
Oh … watch out for Metropol Cops!
How to break in the car?
Wear a crowbar (on sale for G$ 300 at the Angry Bob's warehouse – next to Club Pecos)
Click on the car
Use the crowbar as if it was a melee weapon (hold down the left button of the mouse while you click on the directional arrows – forward, left, right, etc). A counter will show how many times you need to smash the car before breaking in. If you cannot make it within a minute, then you will fail. It is easy, but it takes a little bit of practice.
You will get a stolen item 6 times out of 7, so it is almost sure.
The stolen items are transferable, so you can use them to pay your debts with other players or in any way it is convenient for you.

How do I sell the items?
Go to the Pawn Shop (near Metropol , in front of the movie theatre).
Click on the counter.
Drag and drop your items from inventory to the counter. The Pawn Shop will pay you with checks (so your money will be credited directly to your bank account minus bank fees). The amount of money is given randomly within specific amounts (see below).
The items will disappear as soon as they are processed.
Click on the counter again to end your transactions.
Items in the car (any car will give the chance to get one of these):
Gold watch (G$ 70 – 170 )
Gold ring (G$ 50 – 150 )
Wallet (G$ 10 – 110 )
DDMP Mantis Personal Media Player (G$ 40 – 140 )
Car Audio System (G$ 60 – 160 )
PCD Personal Communication Device (G$ 70 – 170 )
Law
Auto Burglary is a crime in Nomos, and therefore the Metropol will go after you and prosecute you.
The amount you stole from an auto-burglary is set to 100 G$ by default for each car burglary.
Last modified: June 2, 2011