Profile Picture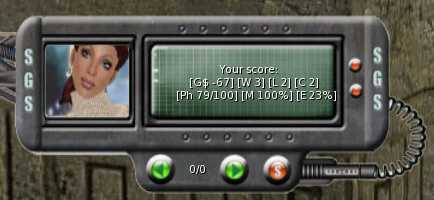 The HUD displays a messaging system received for all sort of in-game alerts or just to show your stats.
The pictures that are displayed on your HUD are textures used by the SL avatars as profile pictures.
If it is not the picture that you have in your profile or you have no picture at all, here are possible causes:
a) Your profile is hidden from Search. To find out if that is the reason, click on your avatar body, click on 'MY Profile'. On the first page there is a checkbox "Show Me in Search Result" – Make sure it is checked.
b) You recently changed picture in your profile. The web pages coming out from www.secondlife.com are cached, and therefore it may take up to 24 hours to show a new picture.
c) Sometimes, even your web search is enabled, and the picture hasn't been changed, the web profile on Secondlife.com shows a broken image for your profile.  You should submit a ticket to Linden Lab customer service and ask them to fix it for you.
d) At last, also check your web profile on the secondlife.com
This is Kora's web profile: http://world.secondlife.com/resident/3d4c9cc1-a14a-4fee-84ec-f06618ba4163
To see your web profile, you can directly look at the URL, if you know your avatar key.
If you don't know your key, open your profile with Emerald and the key will be there. If not, type your name in this service: http://w-hat.com/name2key
Or 'Search for All' in world. You will probably see your web profile as well.
If your picture is there, it will display on your socionex.com profile and it will be used in the HUD in-world.
Last modified: November 5, 2010